I recently returned from a one week vacation with my middle daughter, 14 1/2 years old, to Los Angeles and Laguna Beach, California. (my other 2 daughters are at overnight camp)
FIRST STOP STRAIGHT FROM LAX :
After all, I couldn't convince my daughter to stop EVERYWHERE with me,
I was greeted by the owner, Susan Mischer, a former vice president for specials and documentaries at CBS. Somewhat secretive about the stars that visit her shop, I knew they were lurking somewhere in this W. HOLLYWOOD location on MELROSE AVENUE.
She also wrote the book:
where the friendly instructor opened the shop up just for us.
She said she recently taught, Brooke Shields.
MICHAEL STARS
While my daughter was getting a manicure at the:
Here I was inspired by a group of knitters who are working on the Lorraine bag by Berroco
I purchased 2 skeins of
I made even MORE progress on the bag waiting 5 hours in LAX for our return flight to Cleveland!!

Well worth the 10 minute drive over to LAGUNA HILLS, we visited:

YARN LADY


This HUGE store had a collection of EVERYTHING!!
I especially loved the wall of COLORFUL CASCADE 220 (my favorite for felted bags)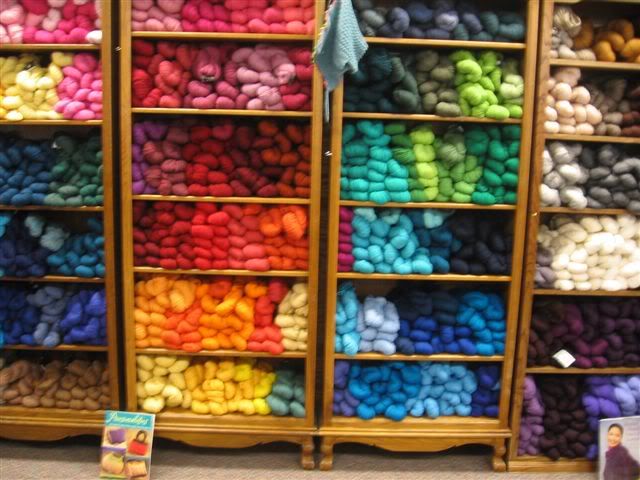 and an amazing collection of NORO KUREYON, my other felting favorite!!
My daughter enjoyed her purchases on our vacation as well from
RODEO DRIVE in BEVERLY HILLS !!